The world of Bishoujo Senshi Sailor Moon will never stop spinning. This is our effort as fans to chronicle thoughts, information, and random obsessions within the fan community. Don't feel shy! Comment, contribute, and enjoy. This blog exists for you.
April 26th, 2020 || By Lisa
I've been holding off on scanning this one in because it absolutely is one of my most prized possessions. Soldier IV is the very first Hyper Graphicers book published by the animators of the original Bishoujo Senshi Sailor Moon anime. To say that this book is extremely rare, is really an understatement. It maybe comes up on auction once every few years, and is usually attached to a super huge price tag. I won my copy back in 2017 (after looking for many years) for the price of 65,000 yen. When it finally arrived from Japan, I swore my hands were shaking when I was pulling it out the box. I am part of a small handful of people who owns this book.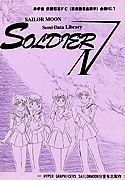 Which is why I really held off on scanning Soldier IV in. It is a doujinshi that was published in 1995. Given it's age and binding quality, I knew the moment I scanned it in, the pages would fall out. And it did. Hahaha. So while I cry in my corner, please enjoy the scans.
Sailor Moon Soldier IV showcases douga artwork from Season 1 through Season 3, and some of the Sailor Moon R movie. It feature sketches from power-house animators such as Kazuko Tadano, Hisashi Kagawa, Ikuko Itou, Shinya Hasegawa, Katsumi Nagai, and more.
It was a joy to scan in the pages and relive some of that Sailor Moon magic. Watching how these sketches brought to life such a timeless and amazing anime, is priceless. Enjoy everyone!
+ Sailor Moon Soldier IV (Vol. 1) – [ Download | View in Gallery ]
+ Small Soldier: Unmei no Deai (Vol. 2) – [ Download | View in Gallery ]
+ Selenity's The Act of Animations (Vol. 3) Part 1 – [ Download | View in Gallery ]
+ Selenity's The Act of Animations (Vol. 3) Part 2 – [ Download | View in Gallery ]
+ Lunatic Soldier: Eien no Chikai (Vol. 4) – [ Download | View in Gallery ]
June 2nd, 2018 || By Lisa
Hello everyone! I recently added a few vintage Sailor Moon doujinshi to the library from the 1990′s and early 2000′s. Katy was actually the one who made the request for this update, so you guys have her awesomeness to thank for it!
First up is a full volume doujinshi from Pale Lilac a.k.a. Ohmori Madoka. Many of us know her as Takeuchi Naoko's production assistant during the time Sailor Moon the manga was being illustrated. So many of Pale Lilac's work holds an extremely strong resemblance to Takeuchi Naoko's drawing style. Pale Lilac's works are very rare and are highly sought after by Sailor Moon collectors. "Moonish Girls" is a compilation doujinshi of Pale Lilac's many works, so if you see it, I would recommend you grab it. It has a little of everything: Cute illustrations, smut, and lots of author's notes. Its definitely a good one!
I also added a doujinshi from Tohru Mizushima, known under the alias of Replicant. Mizushima-san is probably one of the first super stars of the Sailor Moon doujinshi world. Her illustrations are super adorable and her works began circulating really early on, circa 1992 and 1993. The voice actor of Tsukino Kenji from the first series of the Sailor Moon anime, Machi Yuuji, also has a Mizushima Tohru listed as a spouse. No clue if its the same person though. (Hahahahhaa I'm starting rumors.)
Last but not least, I uploaded the illustrations from Ryutaro Hino's CD-Rom doujinshi Silence for Rebirth. He is known by Sailor Moon fans as one of the best Tomoe Hotaru doujin artists in the world. The CD-rom was released in the early 2000′s, and it contained a few of his really awesome Hotaru illustrations, as well as the original source Photoshop file in the raw! I didn't upload these Photoshop files because the file sizes are HUGE. But each PSD contained all the layers Ryutaro Hino used to create these beautiful illustrations. It was a beast and he is such a master at his craft.
Enjoy the doujinshi everyone!
March 11th, 2018 || By Lisa
Its been a while since I've added Sailor Moon doujinshi to the gallery, so much apologies! I think you'll enjoy the three I've selected for this update though. There is Yamada Mario's latest "Times" by my favorite circle, Studio Canopus. Its a nice short pamphlet with plenty of adorable Sailor Uranus & Sailor Neptune illustrations.
I've also added this beautifully drawn doujinshi called "Yume no Tamago" by the very talented circle Bebop//Dog//Duo. Its a short little story about Fisheye, Amazon Trio, Helios, and Usagi. I think you'll enjoy it because its beautiful and super cute!
Last but not least, I've added the self-published "Otome no Policy" book by Obata Kimiharu. For those of you who aren't too familiar with this author, Obata Kimiharu was a key animator for Sailor Moon and Sailor Moon R. He published this short book as a tribute to Sailor Moon for the anime's 20th Anniversary. It features some very beautiful and intricate illustrations by Obata-san, which is a real treat to see him revisit this period of anime in his life. Please enjoy the scans!
February 2nd, 2015 || By Lisa
When fans of Sailor Moon think of art work from the anime, they think of the names: Tadano Kazuko, Hasegawa Shinya, or Ikuko Itoh. Many fans are familiar with the art work of Fukano Youichi but don't realize it. This brilliant man illustrated many images of Sailor Moon which ended up on CD covers, toy boxes, Sera Myu pamphlets, and more. His illustrations were everywhere but many fans didn't know they were drawn by him.
Fukano Youichi is very active in the recent years on Twitter under the username of @hoypoykoy. He has also been active in releasing many new artworks in the Sailor Moon doujinshi community, these last three years. Though they were released in extremely limited numbers and are hard to find, I took the time to hunt down each doujinshi piece. Not only do you get to see Fukano Youichi's version of Eternal Sailor Moon (Fukano Moon), but also his new art style for the Outer Senshi.
"Senshi no Tsue" is a doujinshi book published by Fukano Youichi in early 2012 at the Wonder Parlour Cafe in Japan. It was extremely limited in numbers and is very hard to find. In the book, Fukano Youichi discusses his work on Sailor Moon during the 90′s. He also drew little quick sketches of the senshi in maid outfits. I think "Senshi no Tsue" is a book Sailor Moon fans should definitely hire Miss Dream to translate. If anyone starts raising funds to do so, please contact me: I'll throw in $20. Enjoy the scans everyone!
"Senshi no Tsue" by Fukano Youichi – [ Download | View in Gallery ]
October 21st, 2014 || By Lisa
Hello everyone! Its been a long time since my last blog update. Unfortunately the blog was blasted to hell by spam. It took a while to clean everything up, so please bear with me. Thank you for your patience! I'm just going to leave some download links here for the new Sailor Moon doujinshi and douga books that were added to the Gallery. Enjoy everyone!
Sailor Moon Doujinshi
Official Sailor Moon Books
Great Big Thank You's!
And lastly a few months ago, a donation-drive was held to help Three-Lights.net raise money to get a new computer. Thanks to generous donations, a total of $620 was raised! These scans now and in the future, are made possible because of everyone who helped! Thank you guys so much for donations and participation in the Ebay sales! Thanks especially to the following people: